With 2016 coming to an end, we all take this time to look back at everything that's happened throughout the year but we also take this time to look forward at what lays ahead in 2017. Probably the most anticipated event everyone is waiting for is that final moment when the world says goodbye to the Obama's, and hello to the Trump's.
So with 2016 coming to a close so does Barack Obama's term as the 44th President of the United States, and while we have to say goodbye to Barack Obama as president, we also have to say our final goodbyes to First Lady, Michelle Obama.
Between changing the world with one dance step at a time to rapping with James Corden, Michelle Obama has successfully won over the hearts of millions and earning herself the title of Coolest First Lady of All Time. So take a scroll through memory lane and relive the First Lady's best ten bits!
1) One of Michelle's biggest campaigns worked towards bettering the lives and well-being of the children in America. The Let's Move! programme aims to increase child activity and tackle the growing epidemic of childhood obesity in America today. Let's Move! was Michelle's first big step in making a name for herself, and it was a huge success! Keeping fit through dance…genius.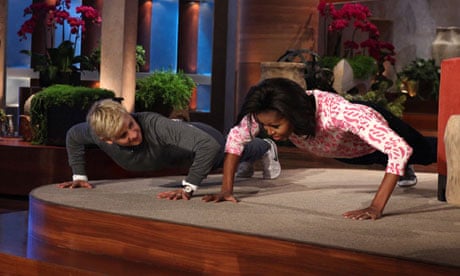 2) Remeber that time she challenged Ellen DeGeneres to a push up competition, right in the middle of an interview while recording and in front of a studio audience? NBD
3)Michelle Obama's other main campaigns worked towards opening doors to girls around the world and giving them the opportunity at a full education. Michelle Obama has always believed that with an education anyone could change the world, and that a girl with an education could shape her own future. Let Girls Learn was set up to help girls reach their full potential and improve the lives of girls across the world.
4)When she made TV history and joined James Corden for an episode of Carpool Karaoke, and rapped 'This Is For My Girls' with Missy Elliott effortlessly. Iconic or what?
5)Or anytime she was Ellen…
6)When she lived the childhood dream for all of us and appeared on a episode of iCarly.
7)When Michelle showed us how it was done and danced with Jimmy Fallon.
8) For giving us wardrobe envy
9) For reminding us that at the end of the day, family is the most important thing.
10) When her and Barack were actual couple goals.
And if that doesn't make you love Mrs Obama, then I don't know what will
Love Leah